Village of Honor and the Platte River
The Platte River has been pivotal in shaping the Village of Honor since its inception in 1895. Originally established as a major logging town, the foundations were laid by the Guelph Patent Cast Company. This company invested heavily in erecting its plants, clearing lands, and producing its specialties. By the fall of 1896, a schoolhouse worth $2,500 was completed, and church services began. The Village was named 'Honor' as a tribute to the baby daughter of J.A. Gifford, the general manager of the Guelph Patent Cask Company.
In April 1908, following a popular vote, the Village became the county seat when its population was around six hundred people. It also had stations on the Manistee & Northeastern and the Pere Marquette Railroads.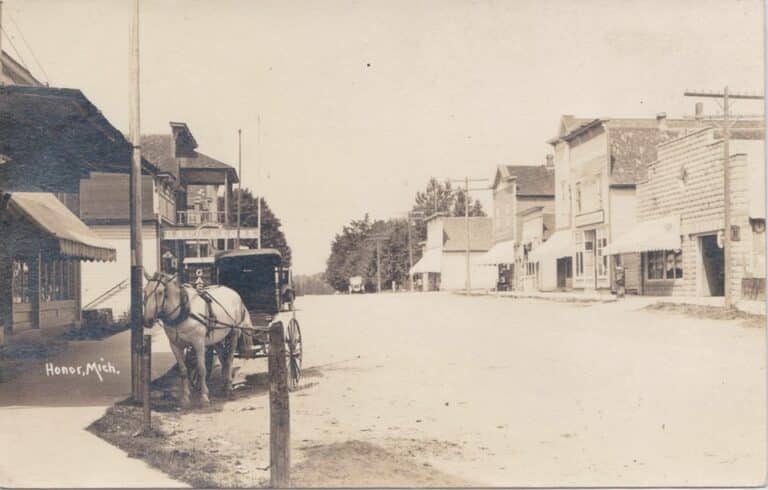 From Logging Town to Thriving Village
Shortly after becoming the county seat, the town's businessmen formed the Honor Public Building Association. They purchased the cement building that became the courthouse, built a modern jail along with the sheriff's residence, at a nearly $6,000 expense. The Village achieved incorporation status in 1914.
The Seymour & Peck Company, successors to the Guelph Patent Cast Company, continued the tradition of lumber and veneer manufacturing. They had enough timber to keep the plant operational for about ten years, providing employment for approximately ninety men year-round. The veneer was transported to Chicago, where the firm transformed it into boxes and crates. This marked a significant phase in the Village's industrial growth, solidifying its reputation as a thriving hub in Michigan.